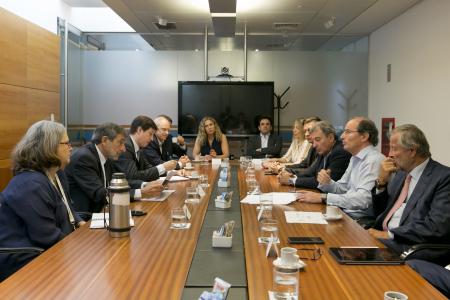 Within the framework of the meetings that the Association of Automotive Makers (ADEFA) has been holding with national officials, in order to continue analyzing the progress in the development and implementation of measures aimed at promoting production, export and competitiveness of the automotive industry, the members of the Steering Committee held a meeting with the new Minister of Science, Technology and Innovation, Roberto Salvarezza.
Aside from the protocol aspect of this first meeting and to express institutional accompaniment, the referents of the local automotive industry reviewed the main themes of the 2030 Strategic Plan agenda and raised the need to move towards the development of the regulatory framework to ensure the sustainability of the automotive sector.
In this sense, the President of ADEFA, Gabriel López stressed the need to articulate the joint work between the public and private sector which will allow to make progress in the different points raised by the vision 2030 such as the development and technological innovation of the sector which ranks first in the national ranking of manufacturing investment in innovation and which generates a significant spillover effect on the value chain and other industries.
"At this moment of total disruption which our industry is going through at global level, we understand that we can position the country as a strong pole in terms of technological transformation and being a referent at a regional level", López said.
Minister Salvarezza agreed on the idea and stressed that the ministry is willing to collaborate in the technological development and innovation. "We have the resources and a lot of capacity. For this we must work on the joint articulation to know the niches that can be locally developed. It's a joint challenge", said the official who was accompanied by Fernando Peirano, president of the National Agency for Scientific and Technological Promotion, and Carolina Vera, head of the Unity of Counselling Cabinet to the Ministry.
On behalf of ADEFA López (President of Ford) was accompanied by the secretary of the association, Daniel Herrero (President of Toyota), Cristiano Rattazzi, president of FCA, Pablo Sibilla, president of Renault Argentina, and members of the Executive Committee, as well as the Executive Director.
Press 01/21/20