After a Little more than four months as Volkswagen Argentina's director of operations, Pablo Di Si in "Primera Persona" talked about the factors at stake when defining an investment and the challenges for the automotive industry in the next years.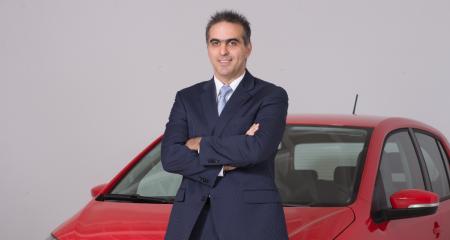 From Huracán's youth team and with boldness, Pablo Di Si in the late 90s decided to send videos to different Universities of United States to apply for a scholarship to play soccer and study. "I didn't have money, I only spoke a Little English, played soccer and I was willing to study. All the Universities answered me, I went to try with us$2000 and two little bags", Di Si speaks about his first steps. "Everybody told me I was crazy and it was not easy" he says and faithful to the premise of "it is good to contextualize", he remembers that, at that time, a phone call to the Unites States was us$6 the minute and it would take a couple of years for Internet to start immersing in the daily life. "My father cut two or three sheets from the sections of economy, sports, national news from newspapers. He put the inside a yellow envelope and sent them to me. They arrived six weeks later", he explains about the alternatives to continue connected to Argentina.
He establishes in Chicago and studying was becoming more important than sport. Once graduated and after a time in Argentina and three months of work at "Banco Francés" he took his first steps as financial analyst at Abbott laboratories. "Abbott is a trainer of professionals" Di Si stresses and he continues with the review. Then he became Finance manager at Monsanto for Latin America and CFO at Kimberly-Clark in Brazil where he recognizes that he lived intense years. "It was 2000 and Lula was competing to stay with the presidency of Brazil; the Brazilian real went from 2 to 4 and the factories operated four hours a day because there was no electricity... A true chaos. I learned a lot. Taxes, distributors. Brazil has the size of a continent" Like this he contextualizes his landing in the neighbor country. A country that let him have his first contacts with the automotive industry.
"In 2005 I received a call from Chicago offering me to enter in the Fiat Group because (Sergio) Marchionne was entering in the group", Di Si remembers. Working with Cledorvino Belini –CEO of Fiat in Brazil and president of Anfavea (Brazilian Association of the Manufacturers of Automobile Vehicles) by those years- Di Si occupies various positions at CNH until he became CFO of Fiat in Latin America. Years that made him work closely not only in the resurgence and positioning of the Italian brand as No 1of Brazil, but also in the Business development of the firm, thanks to which he takes part in the birth plan of the new platforms and products of Fiat (FCA) and the construction of the group's plant in Pernambuco, Brazilian northeast, until in 2014 he changed to the German Automotive company Volkswagen.
Cultural Shift

"I always respected VW as an ex competitor for its range of products, incredible. When I left Fiat I had different options. I chose and they chose me and I believe I was right. I learned a lot about the business, to generate from few resources; not to sleep. Coming to a German Company and at a time in which we had a lot to do was an interesting challenge.
-Adefa Press (AP) –Because of your experience as responsible for the Finance Area –key sector in the definition of projects of any company- Which are the key points to manage a new plan and which takes into account the parent company?
PDS- It depends a lot on each company, but the macro-political environment is the first point to take into account when defining, designing a new project. If you don't have a country with clear rules, if you can't pay dividends, you are excluded. Then, it is taken into account the size of the market. We are an industry of capital intensive and if you can't achieve a certain volume it is very difficult to obtain some kind of return of that investment. Another key factor is the credibility of the team, the competence of the local management. The fact that the head company trusts in the team –once the decisions are made- is vital in order to do everything as it was agreed.
AP- With these arguments, are you competing for the allocation of new projects? Can the President's trip to Germany bring some news in this matter?
PDS- The President Macri travels and from Volkswagen Argentina we work together with the Government to coordinate a meeting with the highest authorities of the Group. So far we do not have news about incorporating new models to the production line. Any investment that can be confirmed will be for infrastructure works within our industrial center Pacheco and for the models that we currently produce. Although we don't have any new production line confirmed, from Volkswagen Argentina we try to be always ready with the best conditions of infrastructure and human resources, in order to continue being operative and thus becoming possible candidates for new products.
AP- A key factor for the industry is competitiveness. Which are the keys to reach it?
PDS- Competitiveness is in everything. From a local supplier's cost –even more if the part travels around the country- up to how much the port fee is to enter a ship in Buenos Aires. Here it costs 200,000 dollars; in Uruguay 160 thousand and in Germany around 80 thousand. This extra cost is competitiveness as a country which we all pay when we buy from an olive, to a car or an engine. What it is necessary to do is to invest in infrastructure.
It will take years. We will not improve competitiveness in a short period of time but we have to work on the nationalization of more suppliers, on the development of port infrastructure, on the one of trains. It is necessary to begin. We will not be perfect the first day, and it will not be immediate. Let's take the first step, and then the second...We are in a positive historical moment. We can impose our little steps so that in six, eight years, we will be more solid as a country and as an industry. Competitiveness seen as the exchange rate is dynamic and we do not control it. We have to focus on what we can do as operation, to work together with the Government in order to lower costs in infrastructure and in inflation. It is the evil of all times. I think it will lower and the country's macro issue will begin to normalize.
LOCAL PILOT
Transition

"In VWA had two years in a role as second", forming a great team –as he recognizes- with Josep-Fidelis Senn, "getting to know the people, the team". "We made all the difficult decisions in 2014. We suffered a lot as a company because we lost market share. In 2015 we started to reap the fruits and 2016 is a new year for everyone. With new rules, new business forms. And it is a welcome change"
AP- In February you assumed the VWA's presidency. Which is your balance of these first months and which is your forecast for the rest of the year?
PDS- We have many challenges as an industry and as a company but I count on a team that is motivated, united. Things are being done well. We know there are problems but they are on the way to be solved.
For the industry it will be a good year. I don't think it will be of transition. At market level we are seeing a positive performance with a strong competition among the brands. I think it is positive because the consumers can choose the products freely and the one who has the best brand equity, the best service is the one which will have clients. We want to defend the leadership for the thirteenth consecutive year and we work on it.
PA- In that strategy, which are the issues that require more attention?
PDS- There are many issues to look at closely, not because of concern. To follow closely. For example, in the first four months the market grew 7%, production fell 13% and exports 30% while imports grew 50%. You can see that the variables are not right. Brazil is affecting us all. In our case we export to 56 countries and a good work was done in the past on the export capillarity. Now with a market of Brazil that goes from 3,6 million units to a 2 million or 1,9 million, There is no volume –no matter the capillarity you have- that supports you. Given that it translates into less production, the concern shifts to the suppliers' health. In ADEFA we talk a lot about the Auto Part Trade's Development Law because it is a measure that we have to support, it has to be promoted in order to give the sector support.
PA- Do you work on measures which allow to confront the effects of the situation in Brazil?
PDS- We are making a great effort and we are winning some battles in getting an additional volume. I am leaving with the little suitcase… and I have already got 3,000 additional units to export to Mexico, and around 45,000 transmissions to deliver to Germany. Everything adds up. Does this compensate Brazil's drop? No. But my aim is to win a little with Mexico, a bit more with Turkey, etc. Everything we can increase, it will be welcome.
P.A- Which are the corrections that need to be done in this point?
PDS- The Government talked to recompose the Flex issue with Brazil in order to have a balanced trade. Today it is unbalanced and the Government is very clear about it. It is a main issue because it is necessary to find that balance. The support to the SMEs and to the auto part trade is fundamental. The President has been deciding it, and in a right way. The work in the big companies generates a spillover effect in the smaller ones and that is why we need to work on giving the SMEs tax incentives so that they establish and they invest more, to be able to increase the national content. It will be difficult to nationalize the engine because we do not have the volume as country, but we do have the other components.
Exhaust Valve

He recognizes himself as "intense", "Very", although today, experience has made him believe in balance. "That is why I jog four or five times a week. I have the benefit of arriving home and tuning off the chip. Finding that balance regardless of the number of hours that one works is essential". "In a moment in my life I accepted the imbalance, but it was a conscious choice, and I said so far I came. And while still being aggressive in the targets because working here in Argentina is challenging, I can give myself my times".
P.A- How to work on an incentive plan to the generation of value
PDS- Yes, an incentive law for a certain amount of time, approximately from four to five years –to discuss-, to nationalize parts, or to develop engineering or to know how for the industry. It would be positive for the country. We are coming from years when the value chain was low. And I understand Macri when he speaks about generating work of value. It is not exporting bananas. It is creating an adding value in the part, putting it in the car and exporting it or selling it in the Argentine market. That technology will not come overnight. The Government can encourage it with clear rules. Everyone who complies with them, will get the benefit. Everyone who doesn't, will get some penalty or not. It is necessary to accelerate this kind of things. I think that the Government has some ideas on this matter.
P.A- What are your goals as the president of VWA?
PDS- The goals are clear: to maintain the leadership, the brand equity, high as it is today and to continue serving the customers everyday better because they are the ones who put us on top. We are dedicated to that. It is also essential to have a good working environment in order to achieve those results. To count on a good working team, where we can have aggressive targets but in a pleasant environment is vital. Another key point that I hope for in my administration is to come up with new products. I hope I can achieve it and I am confident about achieving these goals.
---
CURRICULUM VITAE
Pablo Di Si graduated with a Bachelor in Finance in Loyola University, Chicago and in Accounting in Northwestern. He obtained an MBA in Thunderbird and undertook postgraduate studies in Harvard Business School.
Born in Argentina, he started his career in 1994 as a financial analyst in United States. Before joining the Volkswagen Group, since 2005 he held key positions in finance and business development with the Fiat Chrysler Group both in the United States and in Brazil. In 2014 he joined the Volkswagen Group and since then he has held his position of COO and Vice President of Finance (CFO).
ADEFA PRESS: A. R.