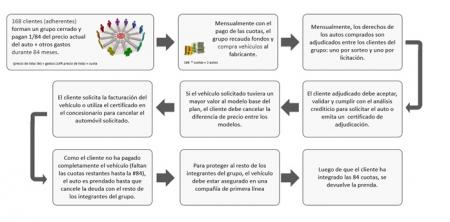 Mindful of the context and the need of customers, the Chamber of Previous Savings Motor Vehicles (CAPA) presented before the General Inspection of Justice a proposal oriented to the universe of savers and successful tenderers who may have seen their ability to pay the installments of the plans affected since the increases of subscribed goods.
Through resolution No. 2 of the General Inspection of Justice (IGJ) published in the Official Gazette, the proposal of the Chamber of Previous Savings Motor Vehicles (CAPA) was approved, through which the bodies which integrate it are enabled to offer the deferral of quota-shares of the savings plan fees they manage, to those subscribers who opt for it, until December 31, 2019.
The resolution provides that the administering bodies of savings plans under the "closed groups" modality, can offer the saver subscribers and successful bidders who are not more than three installments in default at the date of the resolution, the deferral of payment of a percentage no less than 20% of the quota-shares to be issued by the administrating bodies.
The deferral will be recovered in the quotas immediately consecutive to the months of the deferral and within a period of not less than one year (twelve months). This possibility of deferral will be offered to subscribers since the effectiveness of the resolution until December 31, 2019.
This deferral will apply for at least five months from the issuance of the following installment since the acceptance on the part of the subscriber and shall apply to savings plans that have been grouped until August 31, 2019.
It was also provided that, since the effectiveness of the resolution and until June 30, 2020, the administrators will suspend defaulting debtors from collecting the punitive interests contractually agreed as a penalty for late payment.
HOW DOES A SAVINGS PLAN WORK (Image See PDF): Downloaded in right margin
It is a solidarity system, among a group of individuals who provide funds for the acquisition of a zero-kilometer vehicle.
Those customers who for some reason suspended their monthly payments and did not pick up the vehicle, at the end of the plan's months receive the contributions paid, updated to the value of the vehicle at that time, preserving the value of their savings.
Press 08/20/19.-