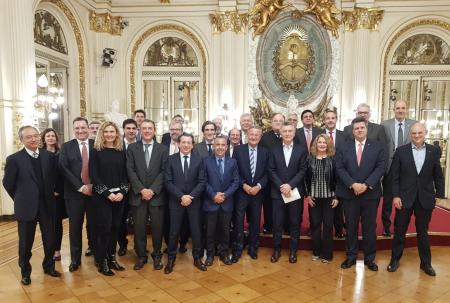 The President of the Nation, Mauricio Macri, received the members of the Directive Commission of the Association of Automotive Makers (ADEFA), to discuss the scope and impact of the new Automotive agreement reached by the Governments of Argentina and Brazil.
Aside from the protocolary nature and after thanking the call to the association, the Vice-President of ADEFA, César Luis Ramírez Rojas, highlighted the management of the national authorities and in particular of the Minister Sica and his team in the recent trade agreement that Mercosur's main partners reached on Friday, September 6, which extends the managed trade between both countries until 2029.
In this regard, Ramírez Rojas pointed out during the meeting with the President that every three or four years the implementation of free trade had been postponed. "Now, with this historic agreement reached with Brazil facing 2029, it is very positive because it allows us to have predictability and a more than prudent time to continue working towards a sustainable, competitive and integrated industry before the free automotive trade enters into force with the EU", Ramirez Rojas said at Casa Rosada.
Moreover, in reviewing the scope of the Agreement, ADEFA's president stressed that counting on this "long-term" framework, "allows us to project and define allocations and investments for the next ten years. This enables us to work on the strength, specialization and complementation of our market and as a regional bloc with our partner in the face of the changes that are already taking place in the automotive industry at a global level. Disruptive changes to which we need to adapt quickly and sustainably to remain in competition."
On the official side, the President Macri was accompanied by the Minister of Production and Labor, Dante Sica; the secretary of Industry, Fernando Grasso and the assistant secretary of Foreign Trade, Federico Lavopa. On behalf of ADEFA accompanying Ramírez Rojas, the meeting was attended by the president of FCA Fiat Chrysler, Cristiano Rattazzi; of Ford, Gabriel Lopez, of Iveco, Marcus Cheistwer; of Volkswagen, Thomas Owsianski; and members of the Executive Committee as well as the Executive Director of the association.
Press 09/09/19