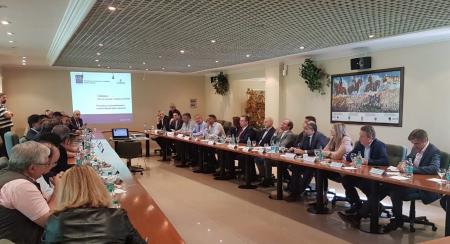 Under the premise of designing a proposal for policies that will drive the development of the automotive industry as a whole, the main benchmarks in the sector met to continue working on these guidelines with the year 2030 as a horizon.
Aware of the situation which the industry is going through, of the need for transformation to go along with its evolution at the global level and to preserve labor sources, all the actors in the automotive value chain, at the initiative of the guilds SMATA and UOM are engaged in the development of a strategic plan that allows the long-term support and growth through the design of industrial policy proposals that ensure the right conditions to face the current challenges and to seize the opportunities of the industry in the future.
This work is based on consensus and dialogue. At today's meeting, progress was made on the treatment of aspects related to investment, employment, competitiveness and international insertion, among other issues.
SMATA's secretary-general, Ricardo Pignanelli, Antonio Caló (UOM), Julián Dominguez (SMATA) and its technical teams, Raúl Amil (AFAC), Ricardo Salomé (ACARA), and Isabel Martínez (ADIMRA) participated in the working day that took place at SMATA's headquarters. On behalf of ADEFA Gabriel López (Ford), Cristiano Rattazzi (FCA), Daniel Herrero (Toyota), Thomas Owsianski (VW), Manuel Mantilla (Mercedes-Benz), Carlos Zarlenga (GM), Rodrigo Pérez Graziano (PSA) and representatives of the association's Executive Committee and of HR attended.
Press 09/27/19