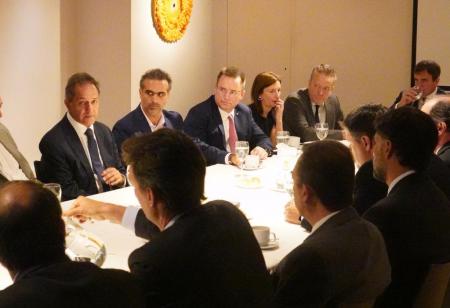 The presidents of the automotive terminals associated to ADEFA, held a meeting with the Argentine Ambassador in Brazil, Daniel Scioli, to discuss the present of the sector within the framework of the relationship with the largest trading partner of the region.
The president of ADEFA and of Ford Argentina, Gabriel López, Cristiano Rattazzi (president of FCA Argentina), Carlos Zarlenga (president of GM South America), Federico Ovejero (Vice President of GM Argentina and Vice President of ADEFA), Marcus Cheistwer (President of CNH Argentina, manufacturer of IVECO), Manuel Mantilla (president of Mercedes-Benz Argentina), Rodrigo Pérez Graziano (Director of Public Affairs and Director of Corporate Communications at Groupe PSA), Hernán Bardi (director of Renault's public affairs and communications), César Luis Ramírez Rojas (President of Scania), Daniel Herrero (president of Toyota Argentina and secretary of ADEFA), Pablo Di Si (president of Volkswagen Latin America), Thomas Owsianski (president of Volkswagen Argentina) were present.
In the meeting, the present of the automotive sector and particularly, the trade balance with Brazil was analyzed, they consider deepening the harmonization of trade, financial, customs and technical aspects.
The need to implement an active policy of joint search for new markets was also discussed, starting with those countries/blocks without a based automotive industry.
46% of Argentina's total automotive production is exported to Brazil; 67% of our country's total exports are destined to the neighbor country and the Brazilian market share in the Argentine market is 58%.
Scioli thanked the entrepreneurs for the meeting and the willingness to work together and showed his commitment to making progress in a "positive agenda, with dialogue" to contribute to the recovery of this sector in a "strategic" alliance with Brazil.