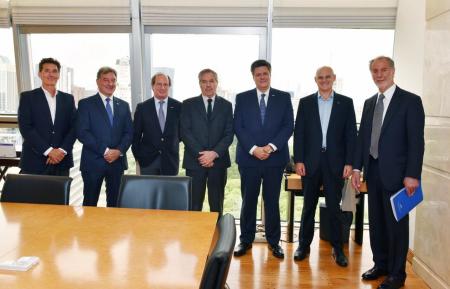 The members of the Association of Automotive Makers (ADEFA), met with the Minister of Foreign Affairs, International Trade and Worship, Felipe Solá to analyze the present of the sector, the challenges and opportunities which lie ahead for the local automotive industry regarding foreign trade.
During the meeting held at the Foreign Affairs Ministry, the current situation was reviewed and it was highlighted the importance of finding new markets for an industry that exports 70% of what it produces, and its relevance to the economy in general given that it represents 13.5% of the country total exports (US$ 8,714 million in 2018) and 35.4% of Industrial Manufacturing shipments.
These numbers ratify the industry's export profile and reflect the need to work on a smart international insertion trade policy open to the world. In this regard, the president of the Association of Automotive Makers (ADEFA), Gabriel López, said that the importance of international agreements for the sector and the country was analyzed, "and it was proposed to work on an agenda with a number of goals and objectives to move forward in favor of expanding and improving our performance in the export pillar".
Between 2014-2015, the automotive sector achieved a strong external presence by supplying 80 markets worldwide and today passenger and light utility vehicles are sent to 45 countries. In addition to analyzing the agreements reached and raising the need to be competitive in terms of costs, it was proposed to recover that presence.
In the same order, Brazil's importance and the objective of deepening the harmonization of trade, financial, customs and technical aspects with Mercosur's largest partner and the need to implement an active policy of joint search for new markets were reviewed.
The Minister, accompanied by Jorge Neme, Secretary of International Economic Relations, appreciated the meeting and willingness to work together and showed his commitment to making progress in an agenda to contribute to the improvement in foreign trade. In addition to the president of ADEFA and of Ford Argentina, Gabriel López, Federico Ovejero (vice president of GM Argentina and Vice President of ADEFA) and Daniel Herrero (president of Toyota Argentina and secretary of ADEFA) were present. //
Press 01/15/20