As every two years, between June 19th and 28th, it will take place in La Rural, the 7th International Auto Show of Buenos Aires. This year different actions will be taken in order to become conscience of the road safety.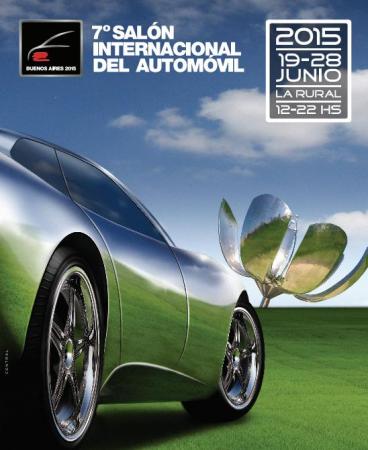 This exclusive international event of the automotive industry, which is going to be organized by AMC Promociones Argentina, is an event no to be missed for the local brands and importers, who exhibit the latest news about products and trends, which reflects the long pathway already covered and it anticipates what it is projected for the future. This edition 2015 of the Auto Show has the support and recognition of the Ministry of Tourism of Argentina, which has declared it as an event of tourist interest for the spreading and promotion of our country.
The International Auto Show of Buenos Aires is part of the OICA's prestigious international calendar (Organisation Internationale des Constructeurs Automobiles) and in its last edition attracted more than 564,000 visitors, figure with which it succeeded in entering the select group of the ten showrooms of the world with greater public attendance. Besides, there were 114 exhibitors and 369 exhibition vehicles, among which 54 new models could be seen. More than 2500 journalists were accredited and attended the event; which provided great media coverage and an important impact on social networks.
The brands members of ADEFA with their products (cars, pickups, light commercial vehicles, large utility vehicles) will participate in the 7th Auto Show of Buenos Aires, together with importers and suppliers of equipments and services, all with their latest news.
One of the main attractions offered by the 7th Auto Show is a tribute to Juan Manuel Fangio, as part of the celebration of which would have been his 104th birthdays and it could be seen in the Blue Pavilion of La Rural.
There, the family of the five time world champion is going to exhibit models he used during his successful sporting career and that today are exhibited in his museum. The Mercedes Benz 300SL coupé roadster of 1958; the Maserati 250F, with which he got his fifth world championship in the Grand Prix in Nürburgring; the Chevrolet 1940, with which he won the Grand Prix International of the North; and the almost unknown Simca Gordini of 1958, in which "el Chueco" raced through the woods of Palermo and Rosario will be there.
There will be exhibited personal objects that belonged to the great Argentine racer, as his agenda, the Wood helmet that saved his life when he crashed and overturned in Monza in 1952, as well as gloves, goggles and trophies, among other details.
In this seventh edition, the Auto Show together with civil associations and public and private bodies will carry out different activities with the aim of spreading and installing road safety and the knowledge of the rules. This will be carried out through the Road Education track for the children, simulation games for the young and the delivery of informative and educational material.
Beginning to think about the next Auto Show, the organizers launched a competition "Image 2017- 8th International Auto Show of Buenos Aires", in which the one who designed the best poster, image or work to be used in that edition will be rewarded. The basis and conditions to take part in the contest, can be obtained in the web www.elsalondelautomovil.com.ar .
In addition, there will be other attraction in this Auto Show as the off road circuit with more than eight brands in circulation, the exhibition of classic cars, national sports, historical competition vehicles, Hot Rods and much more. The 7th International Auto Show will be open every day between 12 and 22 and the entrance fee will cost $100. Advanced ticket sales in www.ticketek.com. Children under 7 years old will not pay.
www.elsalondelautomovil.com.ar
Facebook: Salón Internacional del Automóvil de Buenos Aires
Twitter: @SalonAutoBA